More than happy to do it. Work's been really tough lately and physically I'm just plain exhausted, so I slipped a little bit on the "release schedule" for these study group posts. I'll have one more post by the end of the week, but I'm falling behind on transcribing passages from the book (no full e-copy).
月影の いたらぬ里は なけれども 眺むる人の 心にぞすむ
法然上人
---
I'm sure everyone appreciates all the work you're putting in.
---
Part 5 - Exile
As the teaching of the nembutsu spread throughout the country, old temples such as Enryaku-ji on Mt. Hiei and Kofuku-ji in Nara tried to stop the nembutsu. In the winter of 1204, the priests of Mt. Hiei met together in front of the Main Hall and appealed to the Zasu (chief abbot), Shinsho, to abolish the nembutsu. Honen responded to this by making a document called the Shichikajo Kishomon (Seven Article Pledge). The main points mentioned in this document were not to speak ill of other sects, their teachings and followers; not to behave improperly; and not to teach wrong teachings that the masters (Shakyamuni and Honen) had not presented. The document was signed by 190 disciples to confirm their pledge. As a result of this document, the attack from Mt. Hiei temporarily calmed down.
From the Shijoshin Blog, here is a translation of the Seven Article Pledge:
The Seven Article Pledge

wrote:1) Refrain from denigrating other buddhas and bodhisattvas and from attacking Shingon and Tendai, for you are not versed in any of their teachings.

2) In your state of ignorance, refrain from indulging in disputes with men of wisdom or when encountering people with other religious practices.

3) Toward people of other persuasions or practices, refrain from saying, with your mind ignorant and biased, that they should abandon their practice. Refrain from wanton ridicule of them.

4) Refrain from saying that there is no observance of the clerical precepts in the nembutsu path, from avidly encouraging sexual indulgences, liquor, or meat eating, from occasionally calling those who adhere to the precepts men of indiscriminate practice, and from the teaching that those who believe in Amida's original vow have no reason to be afraid when committing evil deeds.

5) As an ignorant being who is unable to distinguish between right and wrong, you should refrain from deviation from the scriptural teachings, from what is not the teachings of your master, from arbitrarily putting forward your own doctrines, from needlessly seeking out disputes, from being laughed at by the wise, and from leading the ignorant astray.

6) In your state of ignorance, refrain from delighting so much in rhetoric, since you know nothing of the true teachings, from expounding various heresies, and from converting ignorant priests and lay people to various heresies.

7) Refrain from expounding heresies that are not the Buddhist teachings and from regarding them as the true teachings. Refrain from the deception of calling them the teachings of your master.
I think this pledge contains a lot of good guidance. Some might find it a little restrictive, closed-minded, or fundamentalist; but I don't feel this way. I feel like for those of us coming to Buddhism as a convert, these guidelines are very important. There's very little more dangerous than someone that thinks they know a little Dharma, who runs around trying to convert others to ideas that fly in the face of the traditional teachings.
Kofuku-ji, however, was not satisfied. Gedatsu-bo Jokei of Kasagi wrote the Kofuku-ji Petition that included nine errors of the Pure Land Buddhism of Honen. In October of 1205, the priests of Kofuku-ji in Nara sent the document to the Imperial court and appealed for the teaching of the nembutsu to be stopped and for Honen and his disciples to be punished. An Imperial Order was subsequently made stating that there were followers of Honen who misunderstood the master's teaching and who behaved improperly. They should be punished, but as this was their own fault of going against Honen's teaching, Honen should not be punished.
James L Ford from Wake Forest University
has taken special interest in Jokei. He has written an article titled
Jokei and the Rhetoric of "Other-Power" and "Easy Practice" in Medieval Japanese Buddhism
and a book titled
Jokei and Buddhist Devotion in Early Medieval Japan
. Here is an
overview of Ford's work on Jokei
, please check out the comments section there is a lot of good info and discussion there.
Now that I've posted Jokei's points of view, let me just say that I don't agree with Jokei nor do I agree with his supporters. His main gripe in his petition, that gets glossed over way too frequently, is that the Kamakura Pure Land schools eschewed the worship of the Kamis (gods) of Shintoism, especially the kami of Jokei's beloved Kasuga shrine. I think Jokei knew very well what he was doing with his petition and enlisting the help of the cloistered emperor GoToba (with whom he was close until the last days of his life), which led to the execution of 4 of Honen's students, almost the execution of Honen himself, and the exile of Honen & his major disciples (including Shinran).
Furthermore, Honen's main invention was recommending exclusive Nembutsu practice, rather than just exclusive Amitabha practice as ShanTao recommended. But Honen never really broke from ShanTao in practice. ShanTao is very clear on his recommendations in the
Kannenbomon
and elsewhere. Both Honen & ShanTao recited lots of Nembutsu, both recited the Shorter Amitabha Sutra multiple times per day, both conducted both kept precepts, both gave precepts, both went on regular retreats, and encouraged their followers to do the same. More importantly, the Pure Land sutras
themselves
are very clear on what practitioners need to do (for Pure Land birth), and it is not this eclectic form of practice the book advocates. So many of the critiques in the original petition & in Ford's book just don't hold water in my opinion - neither as an accurate critique of the situation of the ground, nor a critique based in established Buddhist doctrine & practice.
If my opinion seems strong, it's because I'm not a fan of these works by Ford or the effects they've had on people. The writer of the above linked summary on that blog, for example, walked away from Shin buddhism entirely for 4 or 5 years before coming back. One of the other people in the comments section, used that book as impetus to not only leave Pure Land but start a campaign of trashing it at various online forums for a couple of years.
The priests of Kofuku-ji were not pleased with this. They again appealed in order to persecute Honen's disciples who were understood to have strong attachments to the nembutsu alone and to abuse other sects. A principle disciple of Honen's, Kosai, was actually thrown out of Honen's center, because he taught that one recitation of the nembutsu was sufficient to achieve salvation (ichinen-gi). His student Gyoku was also thrown out, because he propagated the conduct of breaking the Buddhist precepts and did not respect the vows of other Buddhas. Attacks from Kofuku-ji were frequent after this.
Here we see that Honen was known to criticize those in his movement who advocated antinomian behavior and those who advocated against continuous practice.
The strongest attack against Honen was made on February 18, 1207, when Honen was seventy-five years old. This stemmed from an incident in the twelfth month of 1206, when the ex-Emperor Gotoba made a pilgrimage to the Kumano shrines. During his absence, two of his ladies in waiting, without his knowledge, attended a nembutsu service conducted by Honen's disciples Juren and Anraku and were moved to become nuns. As a result of Gotoba's ensuing rage, Juren and Anraku were sentenced to death and Honen was exiled to Tosa on the island of Shikoku.
I referred to this in my passage above regarding the fallout of the Kofukuji Petition less than 2 years earlier.
Honen did not hesitate to accept his exile. He actually appreciated it, saying, "My exile is the expression of Imperial courtesy, because otherwise I could not bring the teaching of the nembutsu to the people who have never had the opportunity to meet me and listen to me directly." One of his disciples, Sai-Amidabutsu, told Honen not to practice the nembutsu for a while in order to prevent the old temples from attacking. However, Honen replied, "I will practice the nembutsu even if they put me to death."
Talk about "turning lemons into lemonade". I've always appreciated this aspect of Honen's response to his exile. I also like his fearlessness about maintaining his practice openly.
Honen left Kyoto on March 16, 1207 for Shikoku. On the way, he taught the nembutsu to the people in such places as Kyo island, Takasago bay in Harima, Muro harbor and Shiaku island. His listeners included fishermen, prostitutes, warriors and villagers. At last, Honen arrived in Sanuki province on Shikoku his place of exile. At first, Honen had been sentenced to exile in Tosa province, but later later ex-premier Kanezane was able to change the place to Sanuki because of its milder weather.
Some background information on some of these locations:
Shikoku
Sanuki Province
Pictures: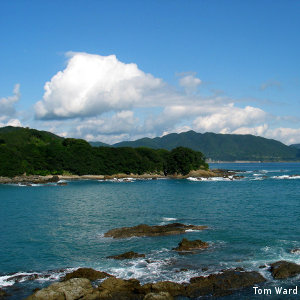 月影の いたらぬ里は なけれども 眺むる人の 心にぞすむ
法然上人
---
Thanks again for this new, informative installment - and as always, for the pictures, which always help toward getting a better handle on the material and the history.
---
Great info, thanks for sharing.
---
Appreciate the feedback guys.
Doing my best to get the content out. To be honest, it's harder without the use of the Jodo Shu Research Institute's English pages. There was so much good info there that it's a huge loss for Pure Land research, regardless of whether one identifies as Jodo Shu or not. Hopefully it comes back soon, people have been notified and they are aware of the situation. I may eventually try to start providing loose translations of the content from the Japanese version of the site. There's a LOT more available there. It just gets a little difficult because a lot of the content is in pdf format which makes it harder to use electronic translation tools.
In the meantime, sorry if some of the board discussion's been a little lacking lately. I figure with all the arguments that tend to fall out from too much discussion, that efforts are better put into content. I think this stance is pretty much in line with the 7 article pledge from the reading passage. I don't want to be pushing an interpretation that's different from the past masters who were actually qualified to give teachings. That being said, if there's anything else anybody wants to see covered, please let me know, I'll be more than happy to oblige.
月影の いたらぬ里は なけれども 眺むる人の 心にぞすむ
法然上人
---
Part 6 - Final Journey
On December 8, 1207, an Imperial Order was issued by which Honen was released from his exile on Shikoku island. Still not permitted to return to Kyoto, he stayed at Kachio-dera temple near Osaka for a few months. It was on November 17, 1211 that Honen was finally permitted to enter Kyoto. On January 23, 1212, he wrote the One Sheet Document (Ichimai-Kishomon) at the request of Genchi, his closest disciple. In the document, Honen stated the essence of his faith, telling followers that the nembutsu is the ultimate way of universal salvation, so make every effort to practicit without bothering with your own finite knowledge. He passed away two days later on January 25, 1212 at the age of eighty.

Some links to give background on some of these locations & events:
Honen's final moments, a painting
Kachiodera in Osaka
Honen's One-Sheet Document

wrote:"In China and Japan, many Buddhist masters and scholars understand that the nembutsu is to meditate deeply on Amida Buddha and the Pure Land. However, I do not understand the nembutsu in this way. Reciting the nembutsu does not come from studying and understanding its meaning. There is no other reason or cause by which we can utterly believe in attaining birth in the Pure Land than the nembutsu itself. Reciting the nembutsu and believing in birth in the Pure Land naturally gives rise to the three minds (sanjin) and the four modes of practice (shishu). If I am withholding any deeper knowledge beyond simple recitation of the nembutsu, then may I lose sight of the compassion of Shakyamuni and Amida Buddha and slip through the embrace of Amida's original vow. Even if those who believe in the nembutsu study the teaching which Shakyamuni taught his whole life, they should not put on any airs and should sincerely practice the nembutsu, just as an illiterate fool, a nun or one who is ignorant of Buddhism. I hereby authorize this document with my hand print. The Jodo Shu way of the established mind (anjin) is completely imparted here. I, Genku, have no other teaching than this. In order to prevent misinterpretation after my passing away, I make this final testament." January 23, the Second Year of Kenryaku (1212)
月影の いたらぬ里は なけれども 眺むる人の 心にぞすむ
法然上人
---
Over at the Jodo Shu google group there's a discussion of starting a study group for
The Promise of Amida Buddha: Honen's Path of Bliss
here's the book blurb: "
he Promise of Amida Buddha is the first complete English translation of a seminal collection of writings by the Japanese Pure Land school's founder, Honen-shonin (1133-1212). The so-called Japanese Anthology (Wago Toroku) collects his surviving short writings composed in Japanese, including letters of exhortation and public pronouncements. The vital writings provide a window into Honen's life and the turbulent era in which he lived and taught.
Everyone with an interest is invited to join, you don't have to belong to Jodo Shu or any sect at all for that matter.
with gassho
Rory
Namu Kanzeon Bosatsu
Chih-I:
The Tai-ching states "the women in the realms of Mara, Sakra and Brahma all neither abandoned ( their old) bodies nor received (new) bodies. They all received buddhahood with their current bodies (genshin)" Thus these verses state that the dharma nature is like a great ocean. No right or wrong is preached (within it) Ordinary people and sages are equal, without superiority or inferiority
Paul, Groner "The Lotus Sutra in Japanese Culture"eds. Tanabe p. 58
---
Are they going to start from scratch or resume the prior one (which tailed off around Ch 7)? I'll try to do a better job of staying engaged with it. Been so crazy this year.
月影の いたらぬ里は なけれども 眺むる人の 心にぞすむ
法然上人
---
Posts: 58
Joined: Sat Jan 04, 2014 1:59 am
I have that book, and at the risk of coming across as overly negative and churlish, I'm not sure how well it would go with a study group. While study of a master like Honen Shonin is never wasted, I can't help but feel it is in this case it is could easily turn into a slightly repetitive exercise.
First of all, the book is very long, and very repetitive. Most of the material is correspondence to what we might call "normal folks" of the day: The very same people to whom Honen-Sama directed his teachings, and among whom he found his greatest support. Thus, there are many letters to fishermen and farmers and peddlers and washer-women and down-at-the-heels local temple officiants, etc. Honen Shonin himself admits at one point in the book that he purposely wrote in a simple, repetitive style because of the nature of his audience.
And I'm guessing anyone with a reasonable grasp of Jodo-shu thought already knows the general gist of most of these letters and micro-essays: Just say the Nembutsu and leave everything up to Amida Nyorai. Rich or poor, clever or stupid, that's the cardinal point. Of course, as Master Honen's beloved inspiration and earlier Pure Land patriarch Shan Tao taught, one should, if possible, concentrate on saying the Nembutsu with the triple heart of deep belief, deep sincerity, and deep desire to be reborn in Amida Butsu's Pure Land. But grinding your gears excessively over this really isn't necessary according to Honen-Sama: if you throw yourself into recitation with simple wholehearted faith in Amida Nyorai's primal vow, it basically means you already have the triple heart. And even if you are in a bad mental space, can't concentrate, or just can't work up the proper intensity of inner faith, just keep chanting: lackluster chanting is better than none at all, and its ultimately a matter of other power anyway, so keep plugging away and some day you too will be strolling around those golden lakes and bejeweled trees. In the meantime, try to lead a moral life, but even if you can't manage to do that, as he once famously told a prostitute, just keep chanting.
It's a beautiful vision, pure as a glass of ice-water on a summer day, and I object to none of the above. But do you really have to read a 500-page book made up of short letters and essays saying the same thing over and over, and then discuss it all that much?
I mean, Honen-sama himself called it "the easy practice" for a reason. If you really are following the Jodo-shu path, why not spend that time reciting the Nembutsu like Honen-sama urges over and over in the book? Instead of a discussion group, maybe set up your webcams and chant together.
Nevertheless, to try not to end this on a too-sour note, the OP's idea does have some merit. First of all, it's important to be in touch with other members of the sangha, particularly those following the same path. And while there really is a lot of repetition, buried here and there are some gemlike and challenging doctrinal discussions for the theology wonks among us.
Another good thing: since he deliberately wrote in a simple, low-vocabularly style for "normal folks" who often had limited literacy themselves, you can pick up a lot of medieval Japanese fairly easily (even though, hey, let's face it -- it's never going to be truly "easy" for most of us) by reading it in English side-by-side with the Japanese originals. That would also give you something to talk about: how well does the English reflect the original? It's not a painless task, but It sure beats grinding through the courtly Kanbun/Kobun style of somebody like Saicho or Kukai. If you can find a modern Japanese version too, so much the better, though sadly these are rare beasts on the Internet.
If you really want to drill down into deep into doctrinal bone and marrow, I recommend the
Senchaku Hongan Nembutsu Shuu.
This, as you may know, was written by Honen-sama to defend his practice against a lot of angry Nara-school monks and abbots. Here he writes with much more erudition and brings in quotes from just about the entire Mahayana cannon to support his position. Now there is some material you could have virtually endless theological discussions over. Just my opinion.
---
You bring up a lot of great points and I think you've got some fair criticisms about Promise of Amida. But the book does have some things like the overview of the commentaries on the Pure Land sutras, that I think are good to discuss. Also, I think the repetition is something that can be glossed over fairly easy for a book study group - just focusing on the occasional nugget of wisdom that may be unique to a particular letter or group of letters, rather than exhaustively pouring through each letter. Only Part 2 of the book is primarily made up of letters, the majority of Parts 1 and 3 of the book are not even letters, they have important teachings on matters of doctrine & practice. I think even the Q&A can be fairly helpful.

I may be in the minority, but I find Promise of Amida infinitely more applicable to daily practice than the Senchaku Hongan Nembutsu Shu. While I appreciate it as a thesis, and enjoy reading the quotes from Zendo Daishi (ShanTao), I personally rate the Senchaku Shu third after the Ichimai Kisshomon and Promise of Amida as far as usefulness to my own practice. I think the Jodo Shu Google group has already done a study group on the Senchaku Shu, so it should be in the archives if you want to check it out.

Last time we tried this study group on Promise of Amida, we petered out around section 7 or 8 in part 1 if I remember correctly. So definitely a book of this size does have it's drawbacks. It's been almost 2 months since the idea of the study group was proposed, with little action, so I'm afraid this attempt may again fall victim to people's busy schedules.
月影の いたらぬ里は なけれども 眺むる人の 心にぞすむ
法然上人
---
I merged all the study group threads into one thread and made it stickied.
Sorry if this steps on anybody's toes, but I thought it'd be convenient to have them all in one place and easily locatable.

I was curious if there was still any interest in any study groups?
Would anybody like me to continue the Raft from the Other Shore study?
Would you guys prefer to study Promise of Amida?
What are your thoughts?
月影の いたらぬ里は なけれども 眺むる人の 心にぞすむ
法然上人
---
---
Who is online
Users browsing this forum: No registered users and 10 guests