The Head Temple Taisekiji is located at the foot of Mt. Fuji. It was founded in 1290 by the second High Priest Nikko Shonin. Nikko Shonin was originally Chief Priest of Minobusan Kuonji Temple. However, because of the slanderous acts comitted by the Hakiri Sanenaga (Lord of Mt. Minobu) and by the senior priest Mimbu Niko, Nikko Shonin departed Mt. Minobu, as he felt that the spirit of Nichiren Daishonin was no longer found there.

However, in order to carry out Nichiren Daishonin's will, Nikko Shonin needed to depart Mt. Minobu anyways in order to prepare for the future construction of the Actual High Santuary of the Essential Teachings at the foot of Mt. Fuji.

The land that Taisekiji sits on was donated by Nanjo Shichiro Jiro Taira-no Tokimitsu, the feudal lord of Fuji Ueno, and a devout believer during and after Nichiren Daishonin's time. Nanjo Tokimitsu recieved more letters from the Daishonin than any other disciple.

Before Nikko Shonin passed away he transferred the Heritage of the Law (Kechimyaku) to third High Priest Nichimoku Shonin. He states in "Articles to be Observed After the Passing of Nikko" ("Nikko Ato Jojo no Koto"),
Ni`ida-Kyō Ajari Nichimoku shall be designated as the Master of the Seat of the Law ... Taisekiji, including the main hall and the cemetery, should be administered by Nichimoku, who should aIso maintain the premises, conduct Gongyō and the await the time of Kōsen Rufu.

(Gosho, p. 1884)

Since the time of Nikko Shonin and Nanjo Tokimitsu, the pure law of the Sowing has been correctly transmitted at the Head Temple Taisekiji for more than 700 years.
The Hoando [奉安堂]
The Hoando currently stores the Dai-Gohonzon of the High Sanctuary of the Essential Teachings (Honmon Kaidan no Dai-Gohonzon), which will be enshrined for all mankind at the dawn of Kosen-rufu. Currently, Hokkeko believers come on Tozan and participate in the Gokaihi Ceremony, where they can pray to the Dai-Gohonzon.
Dai-Kyakuden [大客殿]
The Dai-Kyakuden was built in 1465 and rebuilt in 1998. Each morning, for the past 700 years, the High Priest conducts Ushitora Gongyo, praying for the achievement of Kosen-rufu (world peace). The Ozagawari Gohonzon, inscribed by Nikko Shonin in honour of Jinshiro, a peasant martyr of the Atsuhara Persecution, is enshrined in this temple.
Mutsubo [六壷]
This is the oldest building at Taisekiji, built by Nikko Shonin in 1290. The student priests train under the guidance of the High Priest at this temple. Also Toba ceremonies are officiated at this temple. I attended when for my late grandfather some years ago. The Gohonzon enshrined in this temple was inscribed by Nikko Shonin in 1332.
Mieido [御影堂]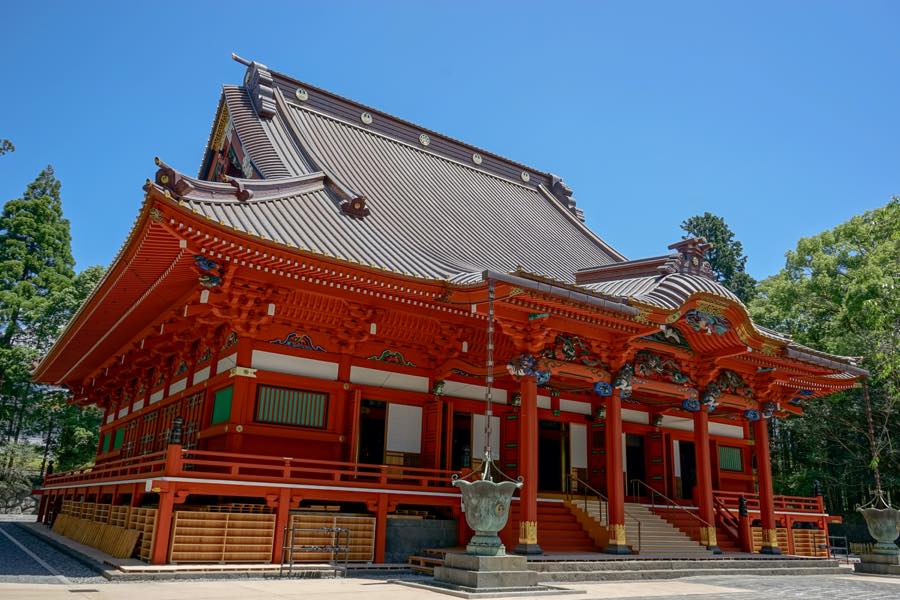 This building was also built by the second High Priest Nikko Shonin. It was rebuilt in 1632 and rennovated in 2013. The artwork of the walls of this temple is desgined to symbolize the Treasure Tower (hōtō) [宝塔] in the Lotus Sutra.