Sawaddee Ka
I would like to introduce a strange looking Thai nuts 'กระจับ(Kra-jab) that taste so yummy..you will love to eat them even you must go to some trouble. I recalled the time when I was in Bangkok..this strange looking nuts were so popular. They tasted really good after boiling in water for 5 mins. We must use a sharp knive to cut it open. I wish I could buy them fresh in Houston.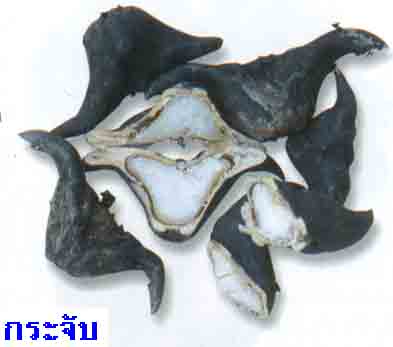 Water caltrop(กระจับ)
[From Wikipedia, the free encyclopedia]

The water caltrop, water chestnut,
buffalo nut
, bat nut, devil pod. The species are floating annual aquatic plants, growing in slow-moving water up to 5 meters deep, native to warm temperate parts of Eurasia and Africa.
They bear ornately shaped fruits, which in the case of T. bicornis

resemble the head of a bull

, each fruit containing a single very large starchy seed.
They have been cultivated in China and India for at least 3,000 years for the edible seeds.
The water caltrop's submerged stem reaches 12 to 15 ft in length, anchored into the mud by very fine roots. It has two types of leaves, finely divided feather-like submerged leaves borne along the length of the stem, and undivided floating leaves borne in a rosette at the water's surface. The floating leaves have saw-tooth edges and are ovoid or triangular in shape, 2–3 cm long, on inflated petioles 5–9 cm long, which provide added buoyancy for the leafy portion.
Four-petalled yellow flowers form in early summer and are insect-pollinated. The fruit is a nut.
Today, water caltrop is so rare in Germany that it is listed as an endangered species.
Water caltrop has been an important food for worship as prayer offerings since the Chinese Zhou Dynasty. The Rites of Zhou (2nd century BC) mentioned that a worshipper "should use a bamboo basket containing dried water caltrops, the seeds of Euryale ferox and chestnuts" (加籩之實,菱芡栗脯).
The Chinese Herbal Medicine Summary (本草備要 published in 1694, written by Wang Ang 汪昂) indicates that water caltrop can help fever and drunkenness.
In India it is known as singhara or paniphal (eastern India) and is widely cultivated in fresh water lakes. The fruits are eaten raw or boiled.
In Australia, and its state of New South Wales water caltrop has been declared a noxious weed.
********
Have you ever seen/tasted this nuts???
tidathep
กระจับ