It is as you say: to question the scientifically-ordained orthodoxy is to be depicted as a 'traitor'. When the Astronomer Royal, Lord Martin Rees, was awarded the Templeton Prize a few years back, Richard Dawkins compared him to a Nazi collaborator.
As for Thomas Nagel, this is how his reception by the academic community was depicted by a sympathetic reviewer of his anti-materialist book, Mind and Cosmos: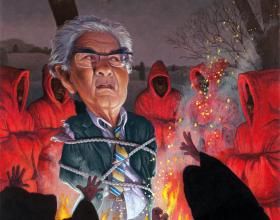 That is because materialism is acually descended from Christian monotheism, which is why it is prosecuted with religious fervour. It is a kind of misguided religious impulse, culminating in the fantasy of interstellar travel.