I thought this was a really touching show of compassion.
http://denver.cbslocal.com/2013/01/06/c ... n-boulder/
Candlelight Vigil Held For Elk Killed By Police Officer In Boulder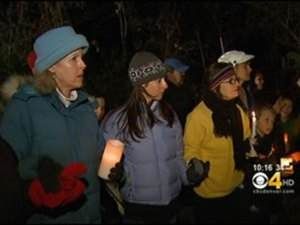 An image from a candlelight vigil held for the elk Sunday evening (credit: CBS)
January 6, 2013 11:47 PM

BOULDER, Colo. (CBS4) – A vigil was held in Boulder Sunday evening for an elk that was shot by a police officer last week.

About 75 people attended the vigil on Mountain View Road, near where the incident occurred. People lit candles, sang songs including "Amazing Grace" and "We Shall Overcome."

Many also spoke at length about the animal who was frequently seen in the area and had been given many nicknames, including Big Boy, George and Elmo.

"We loved him, but I think he loved us, too, because he returned here to this neighborhood three years in a row," said resident Jim Riermersma during the vigil.

Two Boulder police officers — Sam Carter and Brent Curnow — have been placed on administrative leave with pay while the department investigates their involvement in the incident.

Several neighbors told CBS4 Sunday they feel there was no reason to kill the animal, and they think anti-poaching laws should be applied in the case.

One person at the vigil called the elk a wonderful visitor to the neighborhood and said he truly loved the elk.

"I cried; outraged; I lost a very dear friend," resident Marcus O'Bryon said. "I know that's hard for some people to believe, but he was an incredible, magnificent creature."

When asked how he would respond to people who think a vigil for an elk is silly, O'Bryon said, "Well, they don't have to be here, do they?"
...
In Gassho,
Sara H.