Guys and galls there is an interesting article on himalayanart about the Lama with white Karmapa-style hat:
http://www.himalayanart.org/news/post.c ... -tradition
" onclick="window.open(this.href);return false;
So now we have almost all colours:
Black Crown
Karmapa
Red Crown
Shamar Rinpoche
Situ Rinpoche (sorry couldn´t find a pic with his real crown)
Orange Crown
Gyaltsab Rinpoche
Multicolored Crown
Karma Chagme Rinpoche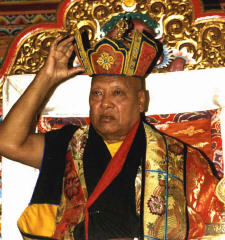 Pawo Rinpoche
I heard that there is a Lama in Zurmang tradition, who is the bearer of Green crown, but I couldn´t find the pic. Does anyone have any info on the Lama? Any other "crowned" lamas of Karma Kagyu and related branch lineages?