Master Nan Huai-chin dies at 94
Posted: Mon Oct 01, 2012 3:28 pm
I'm posting this for anyone who may be familiar with him or his works.
Homage to Nan Huai-chin!!! May your enlightened activities, continue to benefit sentient beings everywhere!!!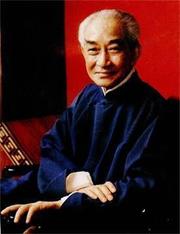 http://www.wantchinatimes.com/news-subc ... 9&cid=1101
Noted master scholar Nan Huai-chin reported dead in China
CNA
2012-10-01
16:09 (GMT+8)
Nan Huai-chin, right, meets with Chinese and Taiwanese officials. (Photo/Lee Chih-wei)
A noted scholar and prominent writer who came to Taiwan in 1949 but lived in China for the latter part of his life passed away at the age of 94 in Suzhou, Jiangsu province, an anonymous source said Sunday.
The source told CNA that staff at the Taihu Great Learning Center in Suzhou said that Nan Huai-chin, whose multi-disciplinary knowledge had earned him the title of master scholar, had died on Saturday. The school was founded by Nan in 2006.
School authorities declined to comment.
Nan was admitted to a hospital early last month suffering from pneumonia that was triggered by a bout of the flu. The school issued a statement Sept. 20 that said Nan was ill, that he needed rest and that he did not want to be disturbed.
Various China-based media have also reported on Nan's death.
Born in southeast Zhejiang province in 1918, Nan came to Taiwan in 1949 and taught at National Chengchi University and Chinese Culture University in Taipei and Fu Jen Catholic University in New Taipei City. He moved to the United States in the mid- 1980s when former Taiwanese president Chiang Ching-kuo reportedly suspected him of possibly becoming the leader of a political group. He later moved to Hong Kong, where he remained until returning to China in 2004.
With his mastery of Buddhist traditions, Confucian and Taoist theories and practices, Nan was influential among academic, business and political dignitaries in both Taiwan and China.
Chiang Su-hui, chairwoman of the Hong Kong-based CS Culture Foundation and a student of Nan, said his death is a loss for the country.
She said Nan was so influential that former Chinese president Jiang Zemin also likes to read his works.
A diplomat stationed in Hong Kong from another Asian country who declined to be named said that although Nan remained low-profile when he lived in Hong Kong, his influence spread across the academic and business fields in Taiwan, Hong Kong and China.