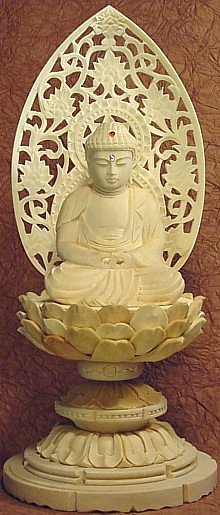 An interesting look at how the Nembutsu and Amida is viewed from Shingon's lenses from
Kōgyō-Daishi
or Kakuban's 'Amida Hisshaku'
Links on the treatise is
here
or
here
A brief on
Kakuban
Kakuban (1095-1143)
Kakuban was a famous monk of the Shingon sect, a Japanese form of Esoteric Buddhism, similar to the Tantric Buddhism of Tibet.
Kakuban founded Shingi Shingon sub-sect, and wrote the Amida Hishaku, an esoteric interpretation of the Pure Land teaching. He developed an esoteric interpretation of the Pure Land teaching. He believed that the central Buddha of Shingon devotion, Vairocana Buddha, and Amida Buddha were one and the same and that Their Pure Lands were also one and the same. He once wrote: "Amida is only another name for Vairocana, the Great Sun Buddha.

If a person will but repeat the three syllables of Amida's Name, his bad karma that has been accumulating from time immemorial will be extinguished.
Meditation upon the one Buddha Amida brings endless blessedness and wisdom. Amida is but an intellectual faculty of Vairocana, who is the substance of Amida's person. Amida's Pure Land is really everywhere, so that the place where we meditate upon Him is verily His own Land.

When we come to realize the truth of this, we do not need to leave this present fleeting world at all to get to the Pure Land - we are already there.
And in our present bodies and persons, just as we are, we are assimilated to Amida, and he to Vairocana, from whom we derive our being.
This is the path of meditation by which, just as we are, we attain Buddhahood."

This equating of Vairocana and Amida was a radical step within the confines of Shingon doctrine, and as it was done to gain greater popular appeal among the masses, it shows the basic popularity which Pure Land ideas had gained by this time. Kakuban's fellow Shingon monk, Saisen (1025-1115), also wrote extensively on the Pure Land teachings.