---
it could be Amitabha or Shakyamuni Buddha. both of their characteristic mudras are typically the same meditation (dhyana) position, with both hands joined together, holding alms bowls. the only different can be the colour of the body. Amitābha (Amida) Buddha is classically depicted in Tibetan art as having a red [celestial] body, whereas (Shakyamuni) Gautama Buddha is depicted as having a golden body.
---
Quite often Amitabha also has a nazi cross on his chest.
I apologize for the description but the correct term escapes me at the moment.
---
---
I didn't even think about the svastika. Also, my picture wasn't rotated when I previewed/uploaded it via mobile. Weird.
---
FWIW - neither of my Amitabha statues have the svastika and one of them is very similar to the picture, in the exact same posture.
月影の いたらぬ里は なけれども 眺むる人の 心にぞすむ
法然上人
---
I guess the question would be is that an alms bowl or Amida's bowl full of amrita?
---
The svastika on Buddhas is a feature of East Asian, especially Chinese Buddhist art. This particular statue is made following Tibetan Buddhist iconography, so it is definitely Amitabha Buddha. Amitabha in this form holds a almsbowl filled with nectar (in his sambhogakaya form known as Amitayus, he holds a long life vase filled with nectar). In Tibetan Buddhist iconography, Shakyamuni Buddha usually has his right hand in the earth touching mudra.
---
Thank you!
---
Could be Bhaisajyaguru, holding a jar of medicine.

Edit - that is not a jar. Scratch that.

Is that a flower blossom?
"Once you have given up the ghost, everything follows with dead certainty, even in the midst of chaos."
-Henry Miller
---
Bhaisajyaguru almost always has a stem of the Myrobalan, with Aruna fruit in his right hand:
Bhaisajyaguru left, Shakyamuni middle, Amitabha right: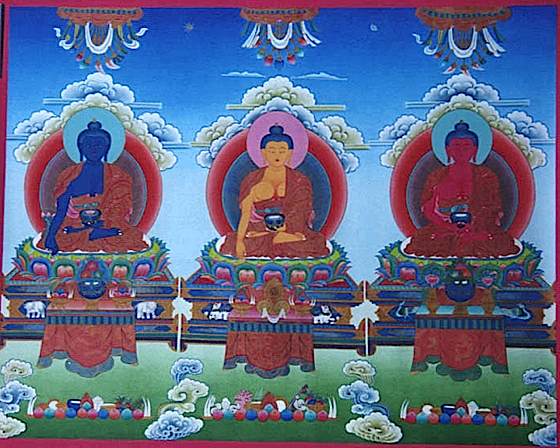 月影の いたらぬ里は なけれども 眺むる人の 心にぞすむ
法然上人
---
Posts: 1060
Joined: Sat Jan 01, 2011 9:36 am
---
Perfect illustrations. I'm personally convinced it's Amitabha. I didn't know that when I bought him years ago. And now I know how to identify Medicine Buddha!
---
---
Who is online
Users browsing this forum: Lhasa and 16 guests