I thought this would be an interesting question to ask.
Recently, a person posted a topic here:
http://www.dharmawheel.net/viewtopic.php?f=77&t=12420
In which they viewed such practices as an example of enlightened behavior.
However, while such feats are amazing in a physical sense, they parallel such extremes of behavior as practiced in asceticism, such as pushing the body to extremes of endurance, and only eating a minimum amount of food, or the barest minimum of sleep.
Such practices were practiced by the Buddha before he found a Middle Way and renounced such practices as extremes.
So the question is, are such practices extremes, and asceticism?
The Buddha likened such things as that to a string on a musical instrument, wound so tight it would likely be close to snapping, and said such things were unnecessary and unhelpful to spiritual development.
He chose a simple middle path of meditation.
Perhaps somebody from the Tendai school can answer why the monks there do such things when the Buddha Himself cautioned against them.
Even from a medical standpoint, any physician looking at such a practice, where a person was doing a practice where the calories they expended per day, far exceeded the amount of intake per day, such as the case with just a single small meal of rice per day, combined with extreme sleep deprivation; most any medical professional would view such a practice as extremely dangerous.
The monks walk more than 80 kilometers per day
get only 2 hour of sleep, per night, walk for 17 hours per day
for 3 and 1/2 months
42 k is an olympic marathon.
They eat just a daily rice ball and a bowl of noodles.
for 100 days in homemade straw sandals that leave their feet blistered, bruised and broken. In the middle of this, they pause to do an ordeal where they must go nine days where the monk cannot eat, drink, or sleep. There are monks on either side of them, to keep them awake. They sometimes die doing this marathon activity, and if they fail to complete it, they carry a rope and a knife to use so they must immediately hang or kill themselves by ritual disembowelment.
If this is not asceticism I don't know what is.
I suppose I don't need to mention that suicide is completely unBuddhist.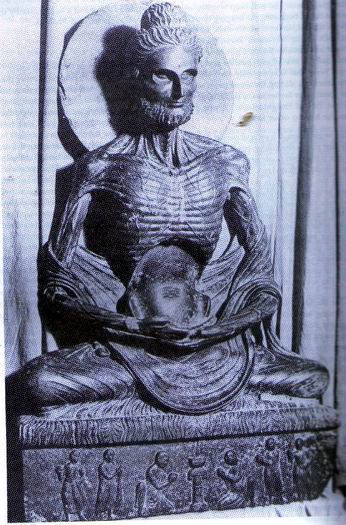 An image depicting a statue of an emaciated Buddha.
The Buddha described pushing oneself to physical extremes as asceticism,
which he described as an unhelpful extreme, contrasting the other extreme of a life of luxury and softness. Image retrieved from azibaza.com